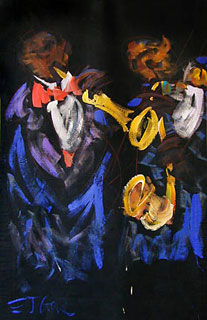 E.J. Gold's
Two Jazzmen
"E.J. Gold's Two Jazzmen has probably appeared in more venues and in front of more jazz celebrities than any artwork ever," says HEI curator Beverly Korenwaser, who has just placed Two Jazzmen at the "Cool City ... Hot Jazz" show at San Francisco's new Jazz Heritage Center with Yoshi's Jazz Club in the Fillmore Jazz Heritage District.
See list of venues
See list of celebrities
Jazz Performers
Performing with JazzArt ®
Abbey Lincoln, Antonio Hart, Benny Green, Bill Watrous, Billy Taylor, Bob Blumenthal, Bob Brookmeyer, Bruce Gertz, Buddy DeFranco, Charles Tolliver, Chick Corea, Chico Hamilton, Christian McBride, Clark Terry, Claudio Roditi, Clayton Bros., Conrad Herwig, Curtis Fuller, Dan Morgenstern, Dave Brubeck, Dave Holland, David Murray, David Sanchez, Dennis Mackrel, Douglas Purviance, Duke Lee, Ed Thigpen, Elvin Jones, Eric Ginnison, Frank Greene, Frank Wess, Freddie Hubbard, Gary Smulyan, Gerald Wilson, Greg Gisbert, Hank Jones, Harry Belafonte, Horace Silver, Ian Dogole & Hemispheres Jack DeJonette, James Moody, Jason Jackson, Jason Kennedy, Jay Ashby, Jerry Bergonzi Jimmy Heath, Jimmy Scott, Joey DeFrancesco, John Hollenbeck, John Lee, John Levy, Joshua Rennick, Journalist Nat Hentoff, Julia Dollison, Kenny Werner, Lizz Wright, Lori A. Custodero, Maria Schneider, Marian McPartland, Mark Gross, Marty Ashby, Michel Legrand, Monty Alexander, Nancy Wilson, Nnenna Freelon, Odeon, Oscar Peterson, Paquito D'Rivera, Patrice Turner, Phil Woods, Ramsey Lewis, Randy Brecker, Ravi Coltrane, Ray Barretto, Roberta Gambarini, Ron McClure, Ron McCurdy, Roy Hargrove, Roy Haynes, Russell Malone, Sean Jones, Sheila Jordan, Slide Hampton, Sonny Rollins, Steve Davis, Steve Kuhn, Tony Bennett, Toshiko Akiyoshi, Will Calhoun, Wynton Marsalis & others ...
Jazz Venues Exhibiting JazzArt ®
Wynton Marsalis Concert, 2001,
IAJE 2003 Toronto,
Gallery Arcturus, 2003,
Cover, Jazz Education Journal, July/Aug. 2003,
Mill Valley Jazz! Performance, 2003,
DVD Cover, Ian Dogole & Hemispheres in Concert, 2004,
IAJE 2004 New York City,
Cover, Jazz Education Journal, Conference Guide, 2004,
IAJE 2006 New York City,
IAJE 2007 New York City,
Jazz Heritage Center 2007, Jazz Heritage Center 2008