Northwest Jazz Profile Magazine
April 2007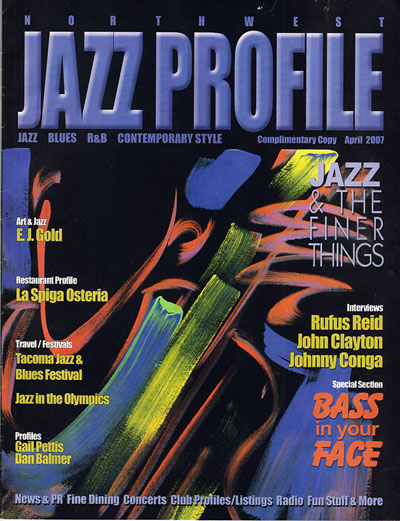 Northwest Jazz Profile Magazine partners with HEI
Having met at the IAJE (International Association for Jazz Education) Conference in NYC in January, NW Jazz Profile's David Johnson and HEI's Beverly Korenwaser collaborated to bring E.J. Gold's dynamic JazzArt ® to cover the mag's April issue.
According to Jazz in Blume, the monthly "Northwest Jazz Profile Magazine is the hottest and best way to learn about up and coming jazz artists in the Northwest and it will keep your finger on the pulse of the music beat in Portland, Seattle, Tacoma and the North Olympic peninsula. This complimentary magazine is now available in select locations in Port Angeles, Sequim & Port Townsend [Washington state]." NW Jazz Profile will soon be online.
Northwest Jazz Profile is distributed from Vancouver, B.C. (Canada) to Oregon with pockets of distribution in Illinois, Michigan and Ohio. And is expanding distribution centers in California and Nevada to completely cover the West Coast.
Musicians: Don't miss out on the opportunity to advertise your bands calendar on their "musicians calendar". This is a FREE service so there is no reason NOT to take advantage of FREE advertising! Think about taking out an ad as well, they give terrific discounts to musicians. They can be contacted at nwjazzprofile "at" yahoo.com.