Press Release
Jazz Art Collaboration Returns to IAJE in New York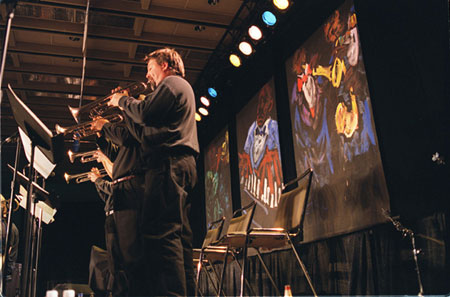 E.J. Gold's art graces the stages at the 2003 IAJE Conference in Toronto
An electrifying collaboration of jazz musicians with visual artists was born in a small town in Nevada County, California. The area is a tourist destination in the Sierra foothills near San Francisco, and a well-known cultural mecca for Northern California. In November, 2001, the local Grass Valley Graphics Group was chosen by the Nevada County Arts Council to transform a huge concert hall into a dynamic jazz performance space for visiting world-renowned jazz artists Wynton Marsalis and Ted Nash.
The sold-out weekend events left concert goers enraptured with jazz and with the jazz-inspired artistic environment. Twelve artists had collaborated to create monumental stage backdrops, wall murals, art installations, sculpture and mobiles that enhanced the hall and the entryways. Every art work spoke to the theme of jazz, whether it was a portrait of Billie Holliday or Louis Armstrong, a Chicago club scene, or abstractions that capture the essence of jazz improvisation and performance.
Subsequently, through the vision of Steve Baker, Executive Producer of the IAJE Conferences, and the enthusiasm of artist-composer E.J. Gold and the Grass Valley Graphics Group, the Jazz Art installation traveled to Toronto, Canada for the 2003 IAJE Conference. Again, the monumental scale of the backdrops, the verve and sinuous brush work of these jazz portrayals, the swirl of colors and action painting aesthetic enchanted the attendees. Jazz musicians, educators, students, and journalists alike praised the art work and commented on how terrific an addition it was to the performances. The Toronto Convention Center commissioned a series of Jazz Art posters to line the walkway from the Crown Plaza Hotel to the Conference Center.

E.J. Gold in his studio

E.J. Gold in his studio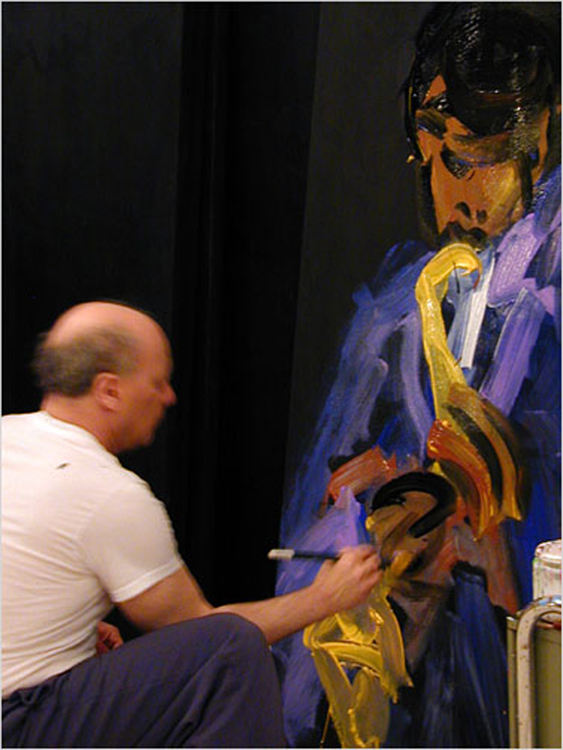 E.J. Gold in his studio
In a Nevada County interview, Wynton Marsalis said, "This gig is extremely hip. I've never been in a place like this before—where the music is with art…This was beautiful. It made the space a whole lot more alive! Jazz, jazz themes, different styles; a feeling of community where everybody is coming together in a meaningful way. This is something that should happen more." Bill McFarlin, the Executive Director of the IAJE, after the Toronto Convention wrote, "We are proud of our relationship with the artist E.J. Gold and the Grass Valley Graphics Group…The beautiful images in their exhibit served to enhance the overall Conference experience by our 6,000 attendees, and reinforced the important connection between art and jazz music.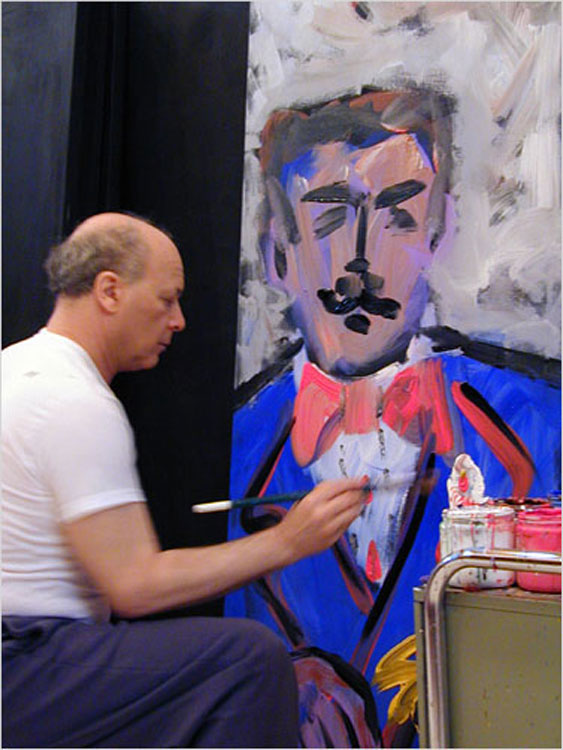 E.J. Gold in his studio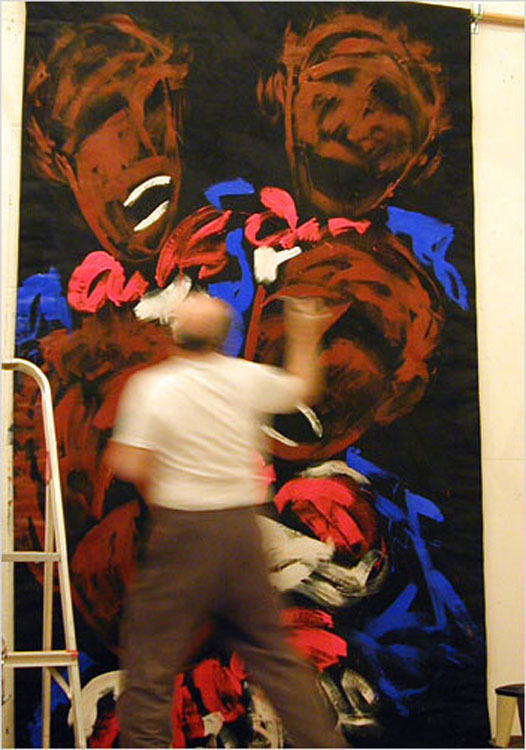 E.J. Gold in his studio
After IAJE Toronto, Jazz Art was in total demand. Gallery Arcturus in downtown Toronto picked up the Jazz Art installation and exhibited to the public for three months. Jazz Art traveled to concerts in Mill Valley, California, with new work for European jazz legend Toots Thielemans's concert, followed by the Jazz Journalists Association Awards Ceremony in Monterey, California, where the art once again enlivened the performance space.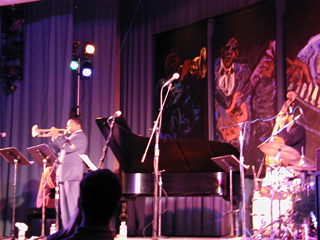 GVGG Art with Wynton Marsalis
In 2004, the Grass Valley Graphics Group artists are delighted and honored to be collaborating once again with Bill McFarlin, Steve Baker, and the IAJE. The artists have created a series of new Jazz Art to grace these marvelous halls and performance venues at the Hilton and the Sheraton Hotels in Manhattan. They hope to match the stellar quality of the musicians with their dynamic visual art works, and they expect the sophisticated New York City jazz crowd to agree wholeheartedly with headliner Wynton Marsalis's assessment: "Art gives us more of a sense of who we are, where we are, where we want to be." (Art Matters, Nevada County Arts Council, December, 2001)