Click HERE for conference photos & reports
JAZZART® ♥ IAJE & Toronto
By Aviko, for JazzArt®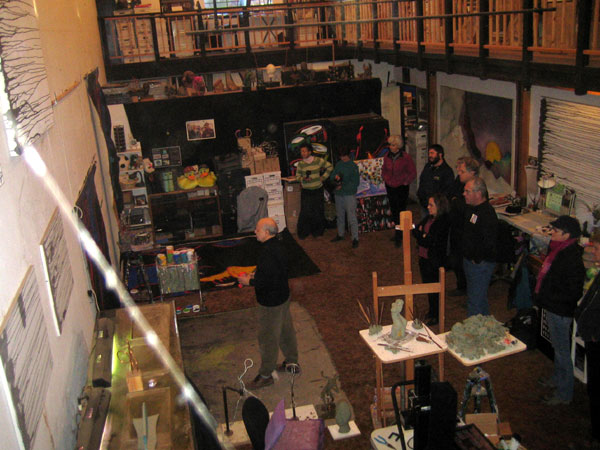 E.J. Gold paints new work for IAJE 2008 Toronto, as some of his sculpture students look on.
When JazzArt® began its partnership with IAJE in 2003, it was in beautiful Toronto, the wonderful city whose motto is "To Live with Culture." We're delighted to be back here again and pleased to present stunning new works by E.J. Gold for the occasion, and to reprise several powerful canvases whose pedigrees have lengthened since our last stop here.
JazzArt® is proud to have participated in the last five IAJE conferences, exhibiting 7' x 11' canvases as stage backdrops for the concert venues, along with dozens of 3' x 6' monumental paintings and exciting JazzArt® images as official conference graphics.
Over the years JazzArt® and IAJE have been a part of performances by many great jazz musicians, from Marion McPartland to Roberta Gambarini, from Dave Brubeck to Ravi Coltrane, from classic jazz to the experimental, revealing each time, to those gathered in the concert halls, that there's nothing like the synergy of jazz art and jazz music!
Wynton Marsalis said it well, when he commented while playing in JazzArt®'s home court of Northern California, "This gig is extremely hip. I've never been in a place like this before – where the music is with the art .... This was beautiful .... This is something that should happen more."
We agree, and that's what we're about. JazzArt® is painted by artists who love what they do. Master Jazz Artist E.J. Gold is a jazz musician and composer, as well as a painter, who brings over 60 years of experience and worldwide exhibitions to the mix; and it's his prolific painting, as well as his creative guidance and inspiration, that makes JazzArt® happen. Over 20 years ago, a group of his colleagues and students joined to form the Grass Valley Graphics Group, and they've been painting together ever since.
Gold continues to teach as well as paint, and, in addition to his You Can Paint! series, as seen on TV, he now gives four classes weekly in Watercolor, Drawing, Charcoal and Acrylic Painting. Aspiring and veteran artists have recently traveled from as far away as Malaga, Spain and Nelson, British Columbia, to study with him.
E.J. Gold's Portrait of Herbie Hancock has been acquired by the Smithsonian Institution: it is now in the permanent collection of the National Museum of American History.
Since last year's IAJE Conference, JazzArt® has participated in Jazz: The Story of a People, an exhibit at the Afro-American Cultural Center in Charlotte, North Carolina; Mo' Jazz: 50 Years of Red Carpet, an exhibit at Rachel Kelly's cutting-edge Flying Hare Gallery in Northern California; the cover of Northwest Jazz Profile Magazine's April 2007 issue; Sierra Jazz Society and Bassist Bill Douglass' Jazz Camp; the California Jazz Foundation's Jazz Summit at Catalina's, L.A.; and the Grand Opening of San Francisco's new Jazz Heritage Center and Yoshi's Jazz Club in the city's historic Fillmore District.
We couldn't do it without our sponsors. We are very grateful to two very special jazz lovers for helping to bring JazzArt® to Toronto this year.
We are honored and grateful to participate with the professional and talented folks from IAJE, especially Executive Director Bill McFarlin and Executive Producer Steve Baker, as well as Steve's stellar staff of Nathan Murray, Matt Tavralini, Brian and Jason; and we are looking forward to working with President-Elect Mary Jo Papich.
Give us a call at 530-271-2239 or 800-869-0658 to find out how JazzArt® can be a part of your artistic expression ....