IAJE 2007 Conference Photos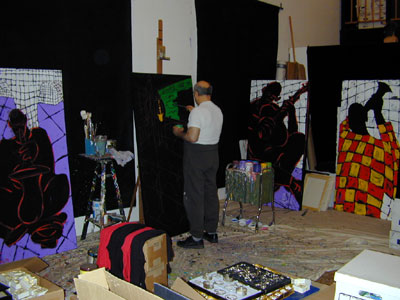 E.J. Gold painting Jazz Art for IAJE
STRIKING GOLD
by Beverly Korenwaser and Jim Rodney
An amazing new fusion of art and music is happening now. JazzArt ®, a growing collection of luxuriously gestural jazz-themed paintings joins once again with top musician performances in a joyous celebration of the spirit of jazz. Gold''s paintings form the striking backdrop images seen on all the concert stages and conference venues at IAJE 2007.
E.J.Gold is the multi-talented creator of JazzArt ®. A native New Yorker and an accomplished jazz musician himself, Gold owned and managed several popular New York jazz clubs in the 1960s. His love of music stays vitally alive in his art as he regularly jams on sax, piano, guitar, drums, and flute in his own recording studio and at gigs with his jazz musician friends.
Edythe Bronston, President of the California Jazz Foundation and an IAJE supporter says: "In Gold's JazzArt ® you see the playfulness, the improvisation, and the mystery of jazz. The visual adventure of spontaneous color and mood takes us right into the essence of the music. Then the magic happens. Separation disappears and the art, music, and audience become one."
For the past four years JazzArt ® has been prominently featured on stage at IAJE conferences next to jazz greats Wynton Marsalis, Herbie Hancock, Oscar Peterson, Dave Brubeck, Chick Corea, Nancy Wilson, Ravi Coltrane, Kenny Werner, and many others. JazzArt ® has also appeared with Christian McBride, Dianne Reeves, and Bobby Hutcherson at the Hollywood Bowl; Toots Thielemans in Mill Valley; Gerald Wilson at The Jazz Bakery in Los Angeles; and at other venues, Howard Johnson with the Duke's Men and Bill Douglass, Paul McCandless, and Ian Dogole with "Hemispheres;" and for Gold's own Reno and Las Vegas extravaganzas.
And next, an invitation by the recently formed California Jazz Foundation, dedicated to helping musicians in need, will bring JazzArt ® back to Los Angeles for the California Jazz Foundation's first-ever event at the Los Angeles Musicians Union.
JazzArt ® will be featured in the exhibit, Jazz: The Story of A People at the Afro-American Cultural Center in Charlotte, North Carolina commencing February 16th, 2007. This yearlong extravaganza of performances, exhibitions, and educational interactions will broaden awareness of innovative jazz giants, their musical masterpieces and the cultural and social impact that rippled through society. JazzArt ® is honored to continue its creative collaboration with IAJE's excellent staff including Executive Director Bill McFarlin, Executive Producer Steve Baker,and Associate Producers Matt Tavlarides, Bryan Waterman, and Nathan Murphy. We are deeply inspired by IAJE's continuing commitment to the creation of an environment where thousands of people from all over the world come together to create, listen to, learn about, and appreciate this unique American art form, jazz.
For further information on how you can incorporate JazzArt ® into your classroom, auditorium, videos, films, live performances, and more, contact Heidelberg Editions International by phone at 1-530-272- 0376 or 1-800-869-0658.