Sizzling Jazz Art Show
Smith Vineyard Wine Tasting Room
August 7, 2010 - October 7, 2010 | Opening Reception Aug. 7, 4pm to 7pm
Press Release
SMITH VINEYARD WINE TASTING ROOM TO HOST "SIZZLING JAZZ ART" SHOW BY E.J. GOLD & GRACE KELLY RIVERA; OPENING RECEPTION SATURDAY, AUGUST 7TH
July 28, 2010, Grass Valley – Heidelberg Editions International, publisher of artworks by E.J. Gold and the Grass Valley Graphics Group, announced today that the Smith Vineyard Wine Tasting Room at 142 Mill Street, Grass Valley, will host "Sizzling Jazz Art," a show of JazzArt® by two of Grass Valley's most well-known artists, E.J. Gold and Grace Kelly Rivera, beginning with an Opening Reception from 4:00 p.m. To 7:00 p.m. on August 7th.
The reception is free and open to the public. Entertainment will be furnished by the duo Mesmerhythm, consisting of guitarist Jim Rodney and cellist Arthur Gould from 5 to 7 p.m.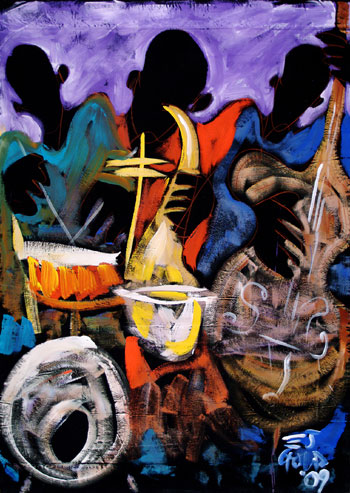 Gold and Rivera exhibited JazzArt® works earlier this year at the Robert and Margrit Mondavi Center for the Performing Arts, UC Davis, for the Jenny Scheinman, Miguel Zenón and Lionel Loueke concerts, at the Jacksonville Jazz Festival in Jacksonville, Florida, and at San Francisco's Jazz Heritage Center.
Since its appearance at Grass Valley's Wynton Marsalis Concert in 2001, JazzArt® has been around the world, and then some. E.J. Gold was the Official Artist of the International Association of Jazz Education, and his JazzArt® has appeared on stage with Dave Brubeck, Herbie Hancock, Nancy Wilson, Nneena Freelon, the late Oscar Peterson, Marian McPartland, Chick Corea, Ravi Coltrane, Roberta Gambarini, to name a few; and at the Hollywood Bowl, L.A.'s Jazz Bakery, B.B. King's Blues Club in New York City and Jazz at Lincoln Center.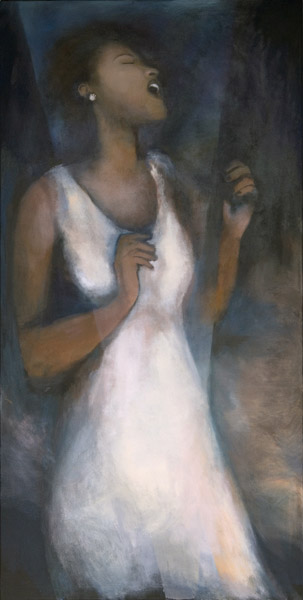 Gold's portrait of jazz pianist and composer Herbie Hancock is in the Smithsonian — in the permanent collection of the American Museum of Natural History. Gold is also known locally for his dynamic art class at Ben Franklin's and as the founder of Grass Valley's Brane-Power® Center, 127 Neal Street, where his popular crystal radio devices are used in stress-reduction and stimulating creativity.
Artist Grace Kelly Rivera lives in Grass Valley with her Grammy-winning Sound Engineer husband Oz Fritz. Her highly sought-after paintings extend beyond jazz art to rich mystical themed portraiture and landscapes. She is also known locally as a perfumer, whose individual essential oil blends are used by celebrities and mortals alike, available through The Perfumerie at perfumerie.com. She also collaborated with Brane-Power® on a new line of bath aromatics available at the Brane-Power® shop and online at yoyodyneindustries.com. A multi-faceted artist, Rivera is also a popular Flamenco dance performer and instructor, and a member of Flamenco del Oro which performs in the greater Sacramento area.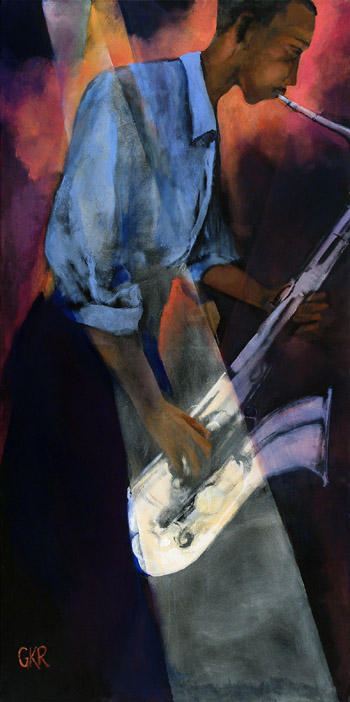 Smith Vineyard is a Grass Valley estate-bottling winery and organic vineyard, now in its third generation of operation. It opened its Tasting Room on Mill Street earlier this year, beautifully remodelling a mid-block historical building which had been known for its open-air entryway seating.
Heidelberg Edition's curator and JazzArt® representative Beverly Korenwaser is excited about the show. "What a perfect hometown venue for these internationally-acclaimed works. The JazzArt® has appeared at a number of California wineries and we find that connoisseurs of fine wine tend to appreciate our fine JazzArt® as well. We've picked some dramatic pieces and are looking forward to sharing them with Smith Vineyard's clientele and the local arts and music community."
The "Sizzling Jazz Art Show" will be at Smith Vineyard through October 7th. For more information on JazzArt®, visit www.hei-jazzart.com, or call 530-271-2239. For more information about artist E.J. Gold, visit www.ejgold.com. For more information about artist Grace Kellly Rivera, visit www.gracekellyrivera.com. For more information on Smith Vineyard, visit www.smithvineyard.com or call (530) 273-7032.