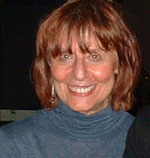 Beverly's BLOG
Curator Beverly Korenwaser blogs the Cool City ... Hot Jazz JazzArt ® show at San Francisco's Jazz Heritage Center
This show is so fine.
Walking into the gallery immediately you are hit with the combined energy of all the art. Supercharged! The place between Wow and your experience.
It's just so beautiful.
Here's what some of our friends said after the Sept 5, 2008 opening.
Iven Lourie: "This show at the Lush Life gallery is a selection of great art works, beautifully displayed in a great setting! The Jazz Art paintings by EJ Gold, GK Rivera, Doug Truth, Aviko and Zoe Alowan are enhanced by partnering with a collection of the finest in jazz art photography"....
Lee Perry: "Beautiful. The show is great! So much gorgeous art. Huge photos of Jazz Art greats on the JHC building is a striking welcome. Add that to the magnificent sound of a Yoshi's Jazz rehearsal. Jazz Art has found a good home base.
Shoshanna Liebner: "I loved it! Like going into my favorite Deli and seeing, tasting and smelling everything you love".
Jim Rodney: "It's gratifying to see a fresh assembly of pieces from the ever growing jazz art collection displayed in this brand new high profile San Francisco gallery...the kind of space this art deserves".
This show is open through Sunday, October 12th, and we're holding a reception on Friday night, October 10th from 5:00 p.m. to 8:00 p.m. Join us for a night to remember ... a night where you can hear, see and feel the jazz ....