Press Release
Hollywood Bowl to Feature JazzArt ® at August 31st Jazz Concert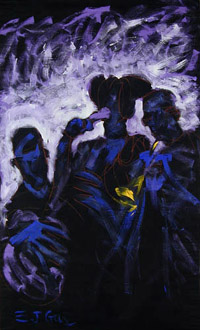 Grass Valley, CA May 20, 2005 -- Heidelberg Editions International, the fine art publisher to E.J. Gold and the Grass Valley Graphics Group, has announced that JazzArt ® paintings will be featured onstage at the Hollywood Bowl Jazz Series concert on August 31, 2005. Performers will include George Duke & Friends, featuring Christian McBride, Billy Cobham, Airto, Kenny Garrett, Roy Hargrove, Bobby Hutcherson and Dianne Reeves.
The 55 works, which were originally created for the Chaka Khan and Gladys Knight performances, will be used in a continuous electronic display on the Hollywood Bowl's IMAX screens which make up the backdrops for its performance stage. Works include JazzArt ® paintings by E.J. Gold, Douglass-Truth, R.C. Trice, Grace Kelly Rivera, Lin Larsen, S.L. Boyd, and Zoe Alowan.
E.J. Gold has also provided theatrical backdrops for Herbie Hancock, Wynton Marsalis, Dave Brubeck, Nancy Wilson, Oscar Peterson, Toots Thielemans and other jazz greats, and painted the Oracle at Delphi series for the Isadora Duncan Dance Festival which featured Lori Belilove & Company, resident dance company for the Isadora Duncan Foundation for Contemporary Dance.
Gold's paintings were also represented in the recent Guernsey Auction House Definitive Auction of Jazz along with those of Miles Davis and Franz Kline.
Gold and the Grass Valley Graphics Group have exhibited at the International Association for Jazz Education in Long Beach in 2005, in New York City in 2004 and in Toronto in 2003 and in numerous venues around the globe. The group was chosen to represent the United States in the USA / USSR tour in 1990.
###