Press Release
E.J. GOLD JazzArt ® PAINTINGS ON THE BLOCK AT GUERNSEYS DEFINITIVE AUCTION OF JAZZ, NEW YORK CITY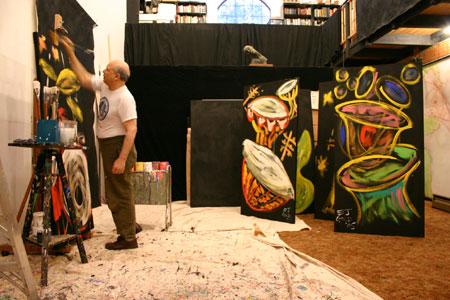 Artist E.J. Gold painting monumental-sized canvasses for the 2005 IAJE Conference in Long Beach. In the center is "Tito" one of four of his paintings being offered by Guernsey's, one of the foremost jazz auctions in the world.
Grass Valley, CA, February 14, 2005 -- Heidelberg Editions is pleased to announce that four JazzArt ® paintings by E.J.Gold will be featured in the Definitive Auction of Jazz by Guernsey's New York Auction House at the Rose Hall at Jazz at Lincoln Center, along with art by Miles Davis and Franz Kline. Guerney's is one of the foremost jazz auctions venues in the world.
This jazz auction features Gold's works Tito, Hands on Ivory, Byrd Cage and Fender of the Faith, each of which was exhibited at the recent International Association of Jazz Education (IAJE) Conference in Long Beach.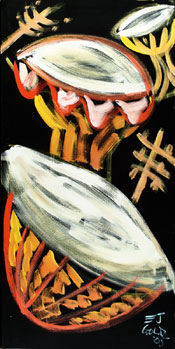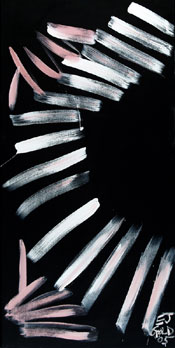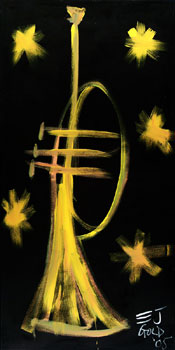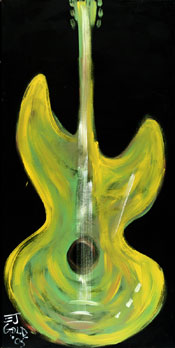 L to R: Tito, Hands on Ivory, Byrd Cage, Fender of the Faith, all on the block at Guernsey's jazz auction.
Gold also painted the theatrical backdrops for the event which honored Herbie Hancock among other jazz greats.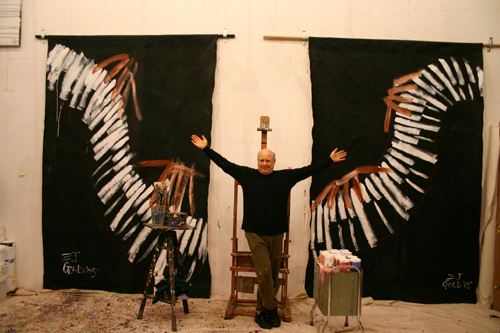 Artist E.J. Gold posing with his paintings of the Right Wing of Gabriel and the Left Wing of Gabriel which were onstage behind his friend Herbie Hancock when Hancock received the President's Award at IAJE 2005, Long Beach.
The jazz auctions are also being carried by eBay Live Auctions where the estimate for each piece is $5,000 to $50,000 and the opening bid is $1,000.
Gold has directed that all proceeds of the Guernsey sale of his works will go to jazz-related educational charities: IAJE, the Thelonius Monk Institute and, in honor of his friend Milt Hinton, to the Milt Hinton Award for Excellence in Jazz Photography through the Jazz Journalists' Association.
For information on how to participate in this jazz auction, go to Guernsey's or to eBay.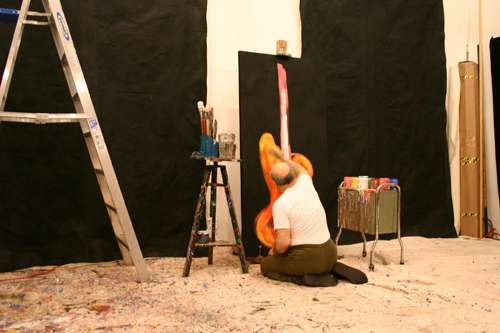 E.J. Gold painting an electric guitar for IAJE 2005
If you want to know more about the collaboration of JazzArt ® for Movie Sets, Concert Halls, Theatrical Stage Productions, TV Set Designs, University Museum Galleries, Corporate Installation, please contact us.
###