Video from the live jazz at The "A" Frame. You'll see Jazz Art hung prominently on the back wall.
JazzArt® appears with
E.J. Gold's JazzArt® at Betty Hoover's Jazz @ The "A" Frame
in the Hollywood Hills of Los Angeles, California.
In a recent conversation with Beverly Korenwaser, Heidelberg Edition International's JazzArt® Curator, Betty Hoover, Jazz Aficionado, said that E.J. Gold's JazzArt® is a vibrant element of the setting for jazz concerts @ The "A" Frame in the Hollywood Hills.
On May 27, 2012 the Kenny Dennis Trio with jazz singer, Ernie Andrews, performed "Parker's Mood" @ The "A" Frame. Throughout the You Tube video, we see E.J. Gold's signature JazzArt® piece, Charlie "Bird" Parker, and to the left of "Bird" are Cornet and Dexter Gordon at Betty Hoover's @ The "A" Frame.
In 2004 at the International Association of Jazz Education Conference (IAJE) in New York City, Betty Hoover purchased three of E.J. Gold's 6' x 3' JazzArt® monumentals. She installed them in her elegant home, at which she had been hosting, once-a-month since 2001, intimate jazz concerts. Since 2004, all three monumentals have been enhancing the "mise-en-scene" of her prestigious monthly jazz concerts @ The "A" Frame.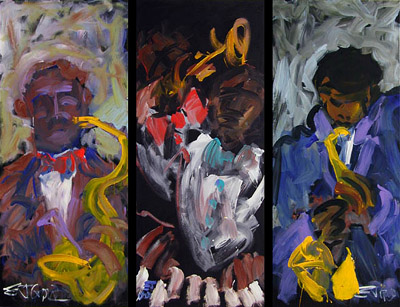 Titles left to right: "Dexter Gordon", "Cornet", "Charlie 'Bird' Parker"
Kenny Dennis is a renowned drummer who has played and/or recorded, since the '50s, with great jazz musicians including: Thelonious Monk, Miles Davis, Billie Holiday, Charles Mingus, Lena Horne, Nancy Wilson and Sonny Rollins, to name a few. In recent decades, Kenny's passion has been mentoring young jazz musicians. Since 1997, one aspect of his multi-faceted work has been his vital role as Assistant Director of the Lab Band at the award-winning Los Angeles County High School for the Arts.
In recalling with Beverly many dynamic jazz concerts @ The "A" Frame, Betty reminisced about her discovery in 2004 of E.J. Gold's JazzArt®. She said, "From the moment I saw E.J.'s JazzArt® on stage in New York at the IAJE, I knew these three JazzArt® paintings would be the perfect complement to the top-notch jazz that is presented at Jazz @ The "A" Frame."